Alder Gulch Shortline Railroad

The Alder Gulch Shortline Railroad was built by Charlie Bovey in 1964 to connect Virginia City to Nevada City - A mile and a half away. Today, the Alder Gulch Shortline is a great opportunity to enjoy the scenery and learn about the surrounding area! The train ride is approximately 15 minutes long.
---
 All Aboard the Alder Gulch Shortline Train!
Train Schedule
Runs May 25, 2024 - Sept 2, 2024 (limited capacity)
Tickets can only be purchased in person at a first come, first serve basis.  Tickets cannot be reserved or purchased by phone.
Note:  Train does not run in bad weather
WEEKDAY SCHEDULE
Virginia City
Departures

Nevada City
Departures

-

-

10:00 AM

10:30 AM

11:00 AM

11:30 AM

12:00 PM

12:30 PM

1:00 PM

1:30 PM

2:00 PM

2:30 PM

3:00 PM

3:30 PM

4:00 PM

4:30 PM

5:00 PM

5:30 PM

6:00 PM

-
SATURDAY AND SUNDAY SCHEDULE
Virginia City
Departures

Nevada City
Departures

-

9:30 AM

10:00 AM

10:30 AM

11:00 AM

11:30 AM

12:00 PM

12:30 PM

1:00 PM

1:30 PM

2:00 PM

2:30 PM

3:00 PM

3:30 PM

4:00 PM

4:30 PM

5:00 PM

5:30 PM

6:00 PM

-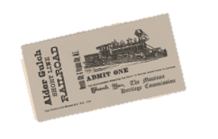 Train Fares

Adult Round Trip
$10
Adult One Way
$ 8
Youth(4-11)/Senior(65+) Round Trip
$ 8
Youth/Senior One Way
$ 6
Groups of 6+ Round Trip
$ 8 each
Children 3 and Under
Free
Check out our packages and specials!
Virginia City Depot and Information Center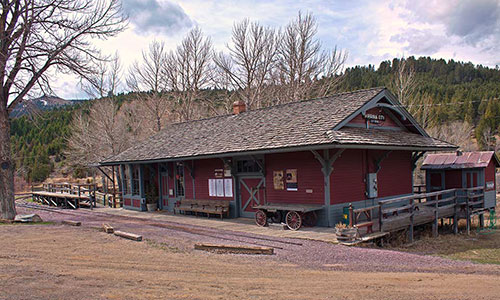 This location is home to the Alder Gulch Shortline Railroad  & the Montana Heritage Commission (MHC) Visitor Information Center on the lower (west) edge of Virginia City along MT Hwy 287. Public restrooms are available at this location. All tickets and passes sold by the Montana Heritage Commission are available from this location.    
---
Nevada City Museum and
Music Hall Entrance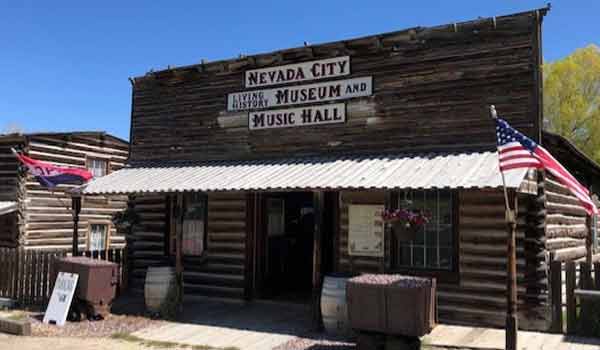 All tickets and passes sold by the Montana Heritage Commission are available from this location. Train departs across the street at the Bovey Visitor Center. Public restrooms are available by the Bovey Visitor Center.   
---
Railroad History
Historically, the railroad service never reached Virginia City. It only went as far as Alder, Montana ten miles away. Charlie Bovey purchased two coal fired Davenport "Dinky" locomotives to transport visitors daily between Nevada City and Virginia City during the summers of 1964 through 1969. These locomotives came from the Anaconda Copper Mining Company's Great Falls Smelter. Used ties were utilized to construct the track in 1964, and by 1969 they had deteriorated to the point that Mr. Bovey felt it was unsafe to run the heavy steam locomotives.

The train did not run again until 1972, when operations were resumed using the "Work Train", a small gasoline powered speeder engine with four "gang" cars attached. In 1988, an ornamental boiler was added to the speeder engine, and the engine was refined and improved during the winter of 1990-91.

On the terrifying night of August 16, 1991 a couple of the railroad crew entered the Nevada City Round House to steal fuel. They used a lighter to see, and when the gas sprayed out of their plastic jug it exploded, burning the roundhouse, one hundred thousand dollars worth of train artifacts, including stained glass car windows, burning the "work train", and ruining the two operable "dinky" steam locomotives.

On September 23, 1991, about a month after the roundhouse fire, John Larkin of the Escanaba & Lake Superior Railroad of Wells, Michigan, came to Virginia City for the first time. He wanted to buy the three c. 1906 Soo Line passenger cars. Years of negotiations between Mr. Larkin and Ford Bovey followed. In the Spring of 1992, Mr. Larkin delivered a beautifully rebuilt version of the former work train and four cars equipped with air brakes, seat cushions, and canvas tops. It was operated by the Bovey family from 1992 through 1996. May 1, 1996, an exchange was finally agreed upon trading the three Soo Line Cars, the Chapel Car, and a Shay locomotive for the rebuilding of the mile and one-half of track between Nevada and Virginia Cities and the fully restored 1910 Baldwin Steamer locomotive. In early October, 1996, John Larkin had the four cars and locomotive loaded by crane and hauled by truck to Twin Bridges, then shipped by rail to Michigan.

The contracts with John Larkin were included at no cost to the State of Montana when the sale of the Bovey Restoration properties took place in May 1997. The years of negotiations and preparations before the State purchased the Bovey properties in 1997 finally became a reality when Governor Marc Racicot drove in the golden spike to dedicate the Alder Gulch Shortline Railroad on September 10, 1999.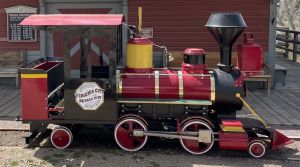 In May, 1998, Bob Whiticomb, a former track foreman and roadmaster for the Milwaukee Railroad, started rebuilding the mile and a half of track to accommodate the large 1910 Baldwin engine. Original rail was reused, but all four thousand or so ties were replaced with new ones. Widening the curves to accommodate the much larger Baldwin locomotive was a major problem. Turning the locomotive around at each end of the track was another challenge, solved at last by building two "wyes." A crew of about six men worked daily using methods much the same as a hundred years previous throughout the summer months. In late September, John Larkin and a large crew from Escanaba arrived, and the area was buzzing with railroad building activity. A new steel bridge spanned the cascade of Alder Creek in Virginia City. Beautiful, sparkling red dolomite ballast from the talc mine South of Ennis was carefully tamped to produced what may be the most beautiful railroad bed in the United States.

Through the summer of 1999, the Escanaba crew continued tamping the track and correcting various problems that arose, creating anticipation for the engine's arrival. At last, on July 31, Virginia City awoke to find the long awaited locomotive in town. An air of excitement hung over the whole area as locals and tourists gathered above the stone wall near the Virginia City Depot.

The engine shimmered in the morning sun. Polished brass and shining black paint gleamed. The engine was resplendent in a Smithsonian quality restoration! Years of work by the Escanaba crew and John Larkin were at their climax as two cranes lifted the forty ton beauty gently onto the track. Engine 12 took its first run under its own power from Nevada City to Virginia City on August 4, 1999. It operated from 1999 to 2010. It is now stored in the Nevada City train barn and can be viewed during our operating hours of 10:30 AM - 6:00 PM.
---